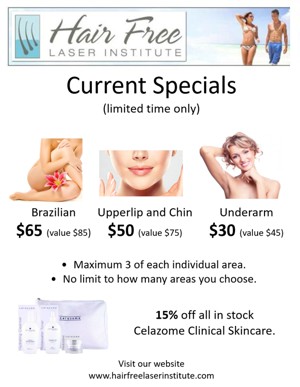 Book Appointment
To book your free consultation at one of our locations, please book now online.
Evening and Weekend appts. available.
Book Appointment
A) Lower Leg, Underarm Treatment and Forearm Treatments
Purchase a Lower Leg and Underarm Treatment for $189 and receive a FREE Forearm Treatment (value of $105)
---
B) Mens Neck Treatments
Purchase a Mens Front of Neck Treatment for $65 and receive a FREE Back of Neck Treatment (value of $55)
---
C) Brazilian Plus and Underarm Treatments
Purchase 4 Brazilian Plus and Underarm Treatments for $460 (value of $620)
---
NEW CLIENT SPECIAL
Receive 25% off your first hair removal treatment applied to any single body area of your choice.
---
REFERRAL SPECIAL
Refer a new client and get a 10% referral credit on your account in the amount the person being referred spends on their first treatment.
* Can not be combined with the Buy 4 get 1 free offer.
Note: Specials may change without notice.