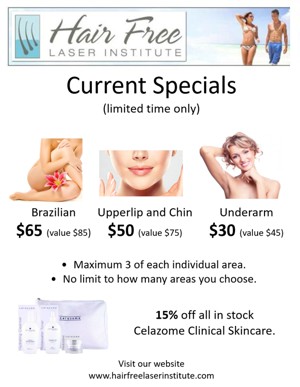 Book Appointment
To book your free consultation at one of our locations, please book now online.
Evening and Weekend appts. available.
Book Appointment
1) Underarms, Lip & Chin
Purchase 4 treatments on your Underarms, Upper Lip and Chin for $350 (value of $440)
---
2) Mens Full Face & Front of Neck
Purchase 4 treatments for Mens Full Face and receive 4 FREE Front of Neck Treatments for $425 (value of $260)
---
3) 15% off Celazome Sunscreen
15% off Celazome Sunscreen
---
---
NEW CLIENT SPECIAL
Receive 25% off your first hair removal treatment applied to any single body area of your choice.
---
REFERRAL SPECIAL
Refer a new client and get a 10% referral credit on your account in the amount the person being referred spends on their first treatment.
Note: Specials may change without notice.